Numbers
Search Your National Number
Find National Numbers From 100+ Countries
What is a National Number?
A national number is a unique phone number that isn't tied to a specific geographic area within a country. They enable businesses to establish a nationwide presence, irrespective of their physical location. With national phone numbers, customers do not need to worry about long-distance charges.
The Basics of National Phone Numbers
National phone numbers are ideal for businesses that operate across different regions of a country. They are not linked to a specific city or region, providing businesses with a more centralized contact number.
National Numbers vs. Local Numbers
While local numbers can give your business a community feel of being in a specific city or region, national numbers project a broader presence. They are perfect for businesses encouraging calls nationwide.
Benefits
Unified Communication for Businesses
National phone numbers facilitate unified communication to maintain a constant connection with customers, partners, and employees with a single, national point of contact.
Consistent Customer Interaction
Get a National Phone Number on Calilio
Calilio provides a straightforward process to buy national phone numbers.
Register an Account
Sign up to create a Calilio account. Fill in all the necessary information and confirm your email to set up your profile successfully.
Choose a National Number
Navigate to "My Numbers>Purchase Number" from the "Setting" option and choose your preferred national number.
Activate and Start Using
Proceed to checkout with your desired number. Upon the completion of payment, your national number is ready for use.
Effective Use Case of National Number
Our national phone numbers are versatile and can be tailored to various business operations.
Streamline Customer Service
Assign your national number to your customer service line, making it easier for customers from any part of the country to reach you.
Centralize Business Operations
Manage all communications with a national business number, regardless of regional offices, through a single point of contact.
Enhance Marketing Efforts
Use national phone numbers in nationwide advertising campaigns to encourage calls from potential customers across the country.
Improved Business Analytics
Route all your calls through a single national number and gather valuable data to improve your analytics and decision-making process.
Numbers
Phone Number Portability in 100+ Countries
Expand your reach globally with our number porting service, accessible in over 100 countries. Keep your numbers, and extend your business frontiers.
Features
Feature-rich National Numbers
Experience seamless communication backed with advanced features tailored to your business needs.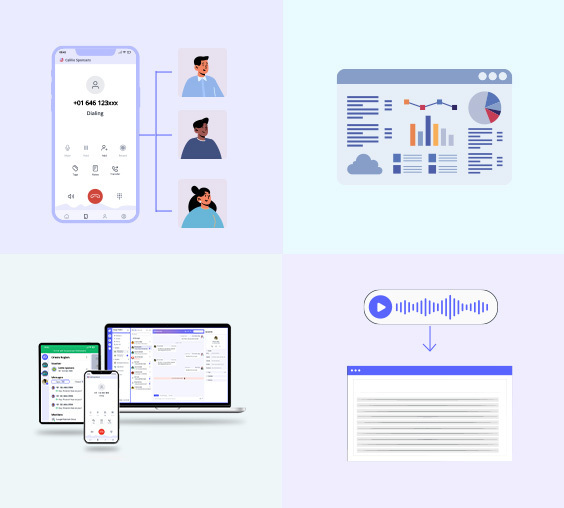 Advanced Call Routing
Route incoming calls to the right department, regardless of their geographical location.
Call Analytics
Gain comprehensive insights into your call data to make informed business decisions.
Multi-device Accessibility
Access your national number on various devices. Never miss an important business call.
Voicemail to Email
Never miss a business message with voicemails auto-forwarded to your email.
Frequently Asked Questions
What is the difference between geographic and national numbers?
How does a national number differ from a local number?
Which country has 9 digit phone numbers?
Is +1 the same as 011?
Connect Nationwide with National Numbers
Start your journey towards nationwide communication. Register with Calilio and get your national number today.
International Number
Get International Numbers