Numbers
Search Your Local Number
Find Local Phone Numbers From 100+ Countries
What is a Local Phone Number?
A local phone number is associated with a particular geographical region, such as a city or state. These numbers are typically identifiable through their unique area codes.
Local business numbers are not tied to specific devices or locations but can be accessed anywhere through any internet-connected device. When a caller dials a custom local number, they are charged local call rates, regardless of where the call is answered.
Benefits
Benefits of Local Numbers for Businesses
Enhanced Customer Service
How to Get a Local Phone Number?
Acquiring a local phone number from Calilio is a straightforward process.
Sign Up for Calilio
Create a new account on Calilio with the necessary information and confirm your email to set up your profile successfully.
Enter a Local Number
Go to the dashboard, browse "My Numbers" in the option to purchase numbers, and enter your desired local number.
Purchase & Activate
Select your preferred number and proceed to checkout. Complete your payment, your new local number will activate immediately.
Calilio - Your Prime Choice for Local Phone Numbers
Calilio provides versatile business phone services with customizable local phone numbers to bridge the geographical gap for your business.
Streamline Your Business Communication
Calilio allows you to add multiple local numbers to streamline your business communication. Customize your phone options to best match your communication needs and boost your responsiveness and efficiency.
Enhance Your Professional Presence
Buy local phone numbers from Calilio and craft a strong professional identity with customizable caller IDs, voicemail greetings, and phone menus. Our VoIP phone system helps you stand out from the competition.
Flexibility with Local Numbers
Get custom local phone numbers and rum operations across multiple locations or departments. You can add virtual phone numbers that serve as dedicated lines for each branch and facilitate location-specific communication.
Localized Communication Tracking
Calilio allows you to track all calls made through your local virtual numbers, ensuring you never miss a customer interaction. Easy management for business communications, no matter where your audience is.
Shared Access and Specific Assignments
Share access to local numbers with your team members, allowing them to make and receive calls or texts. Assign specific numbers to teammates as direct lines and create a structured and efficient business communication system.
Balance Work and Personal Life
Distinguish your personal life from your work communications with dedicated local business numbers. Set business hours for your cloud phone system and a personal work schedule to ensure a balanced and controlled work-life environment.
Numbers
Local Phone Number Portability in 100+ Countries
Expand your reach globally with our number porting service, accessible in over 100 countries. Keep your numbers, and extend your business frontiers.
Features
Advance Features
Enhance your business communications with value-added features provided with your local phone numbers.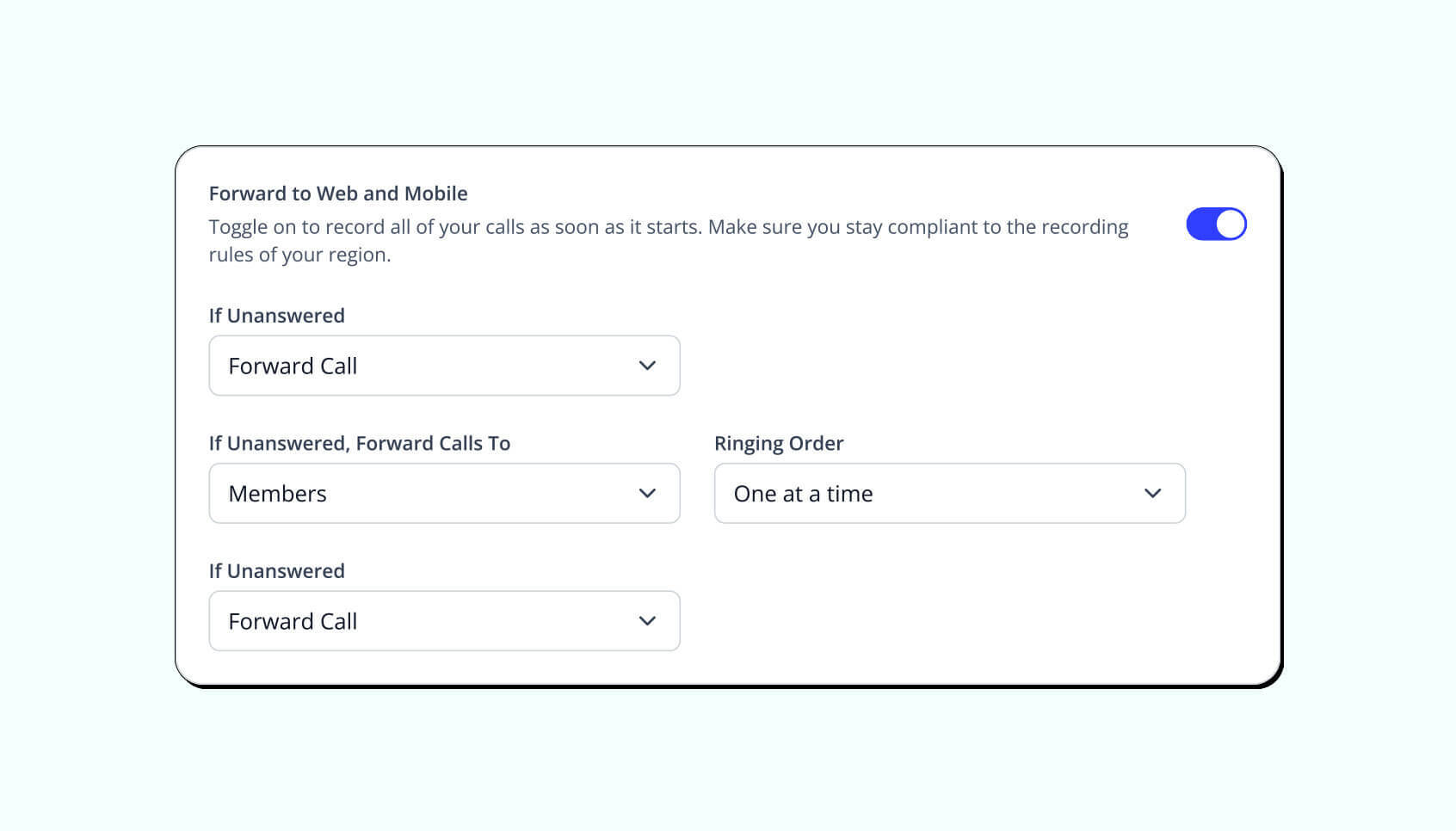 Call Forwarding
Never miss a call with our call forwarding feature. Redirect calls to different numbers to ensure seamless communication no matter where you are.
SMS Integration
Integrate your SMS communications with Calilio. Send and receive text messages directly from your local number for streamlined communication.
Boost Your Local Marketing
Leverage your local telephone numbers to enhance your local marketing strategy and create stronger bonds with your community.
Local SEO Integration
Improve your Local SEO rankings with a local phone number. Search engines use local numbers as a key factor to rank local businesses.
Customer Trust
Local numbers are trusted more by customers. Seeing a familiar area code makes your business appear more reliable, thus improving your brand image.
Local Market Analytics
Track the effectiveness of your local marketing campaigns. Use different local numbers for different campaigns to gain insights and improve your strategies.
Frequently Asked Questions
Can I get a free local phone number?
What app can I use to get a local number?
How do I find a local phone number?
Can I have multiple local phone numbers from different regions?
Enhance Your Local Connection Today
Harness the power of local phone numbers and foster a strong community presence to grow your business in a specific location.
International Number
Get International Numbers