Numbers
Search a Number with UK Country Code
A phone number with a UK country code empowers your business to engage seamlessly with customers across the United Kingdom.
What is a UK Phone Number?
A UK phone number is a sequence of digits that connects callers to a specific line within the United Kingdom. It embodies a precise area code followed by unique local numbers representing the individual or business.
Phone numbers with a UK country code facilitate communication all across the country. They allow businesses to establish a local presence and credibility and portray professionalism. It is a tool to build trust between businesses and the local community within the United Kingdom.
Benefits
Benefits of Using a UK Phone Number
A UK phone number strengthens your business value in the local market and streamlines your business operations. Discover its benefits with Calilio.
Establish a Local Presence
Enhanced Customer Relationships
Types of Virtual UK Phone Numbers
The virtual UK phone numbers are available in three types, each tailored to a specific purpose and business needs. Choose your virtual phone number today for optimized communication solutions.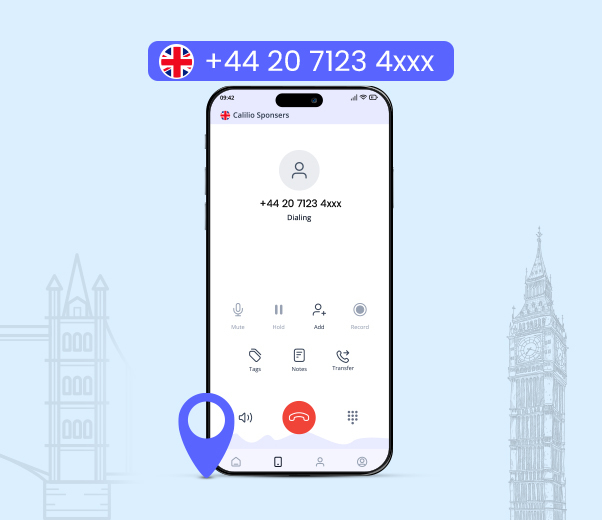 Local Numbers
The local numbers provide a local presence. Use local virtual phone numbers to make a presence in a local UK market, though you are operating oceans away.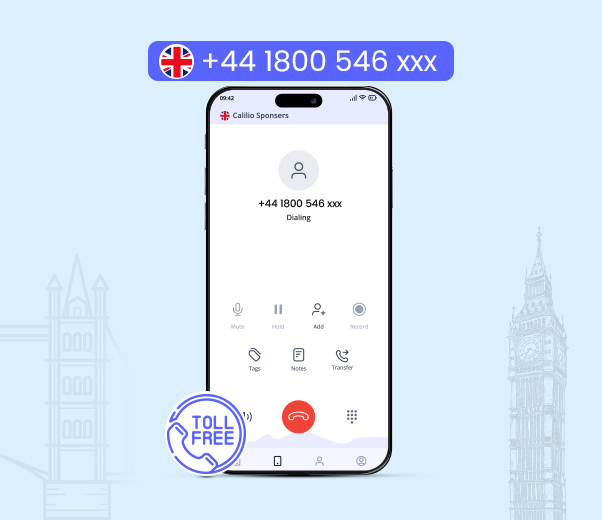 Toll-Free Numbers
With UK toll-free numbers, customers can reach you without additional charges. Use a toll-free virtual number and prioritize accessibility and customer satisfaction.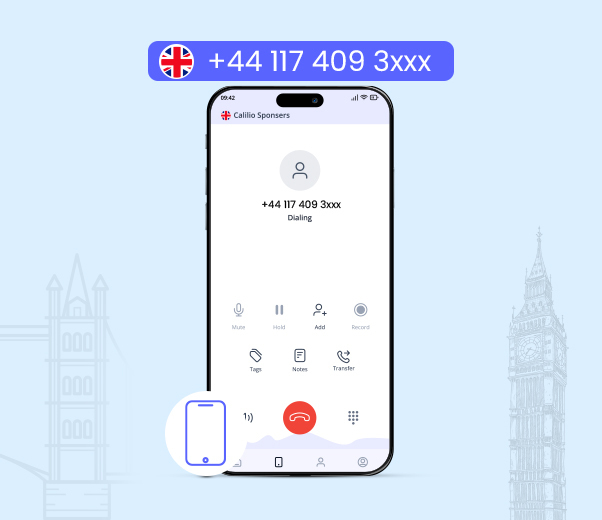 Mobile Phone Numbers
You are not tied to one specific location with virtual mobile phone numbers for the UK. Use virtual mobile numbers to enjoy the freedom to connect from anywhere.
How to Get a UK Phone Number Online?
Acquiring a UK virtual phone number is pretty simple. Calilio offers a streamlined process to get a UK phone number online - in just a few steps

Sign Up
Sign Up to Calilio and register to create an account. Provide the required information and verify your email address.

Choose a VoIP plan
You land on the pricing page. Choose the VoIP plan based on your preference to meet your business requirements.

Pick a Number
Once you're in, navigate to the "Numbers" and select the "Purchase Number" option. Select the UK VoIP number as you desire.

Checkout
Review the selected UK numbers and then click on "Buy Now." Complete the payment procedure following the prompts.

Set up your numbers
You have successfully activated your UK virtual number. Customize your settings and instantly start making calls.
Features of UK Virtual Phone Numbers
UK virtual phone numbers are not just meant to communicate with clients They come with advanced VoIP features that streamline business communication efficiently.
Inbound Calls
Forward inbound calls seamlessly to any device or destination. Virtual phone numbers with a UK area code ensure you do not miss important conversations
SMS Messaging Capabilities
British numbers on Calilio supplement advanced SMS messaging capabilities. Set up an automated message response system and send messages to clients across different countries.
Outbound Calls
Display your United Kingdom phone number as the caller ID when making calls. As you return calls, your business phone number represents your brand.
Call Forwarding
Stay connected, no matter where you are. A UK virtual number allows you can redirect calls to landlines, mobile devices, or another user regardless of location.
Calling to the United Kingdom: UK Phone Number Format
Calling the United Kingdom phone number requires you to adhere to its unique numbering format. The England phone number imparts information about the specific area and types of the number. The prefixes may vary from place to place.

Exit Code
Each country has its own exit code for making an international call. For instance, the UK uses '00' as its exit code, whereas Canada employs '011.' You can substitute the exit code with a '+' symbol on mobile phones.

UK Country Code (44)
Dial the UK country code, i.e., 44. This UK phone prefix instructs your phone system to direct your call to the United Kingdom.

Area Code
An area code, which you enter only when dialing landline numbers, directs your call to the specific city or region within the UK. It typically begins with '0.' However, when making international calls, you omit '0'. Note: When dialing a mobile number, you replace the area code with '7'.

Local Phone Number
Finally, dial the unique local number. This is the specific number of businesses or individuals you are trying to reach within the United Kingdom.
UK Phone Number Example
Suppose you're calling from the USA to a residence in London with a local number of X digits. The number of digits depends on the region you're calling within the UK. London's area code is 020.
Exit Code:

'011' or '+' (From the US)

Country Code:

'44' (for the UK)

Area Code:

'20' (for London, omitting '0' to make an international call)

Local Number:

8 or 9 digits, depending on whether calling to a landline or mobile phone.

So, you'll dial:

011-44-20-XXXX-XXXX or +44-20-XXXX-XXXX (To Landlines)
and 011-44-7-XXXX-XXXXX or +44-7-XXXX-XXXXX (To Mobile Phones).
Why Choose Calilio?
UK Phone Number With Calilio
Calilio provides a user-friendly cloud phone service, empowering you to handle calls using your local business number to/from any location, eliminating the necessity for expensive communication equipment.
Broad Range
Calilio provides an extensive selection of UK phone codes customized to your area or city preferences. Select the option that aligns perfectly with your requirements.
Easy Configuration
Configuring your Calilio account is a breeze – simply select your desired UK phone number with an appropriate area code, and we'll swiftly set it up for you.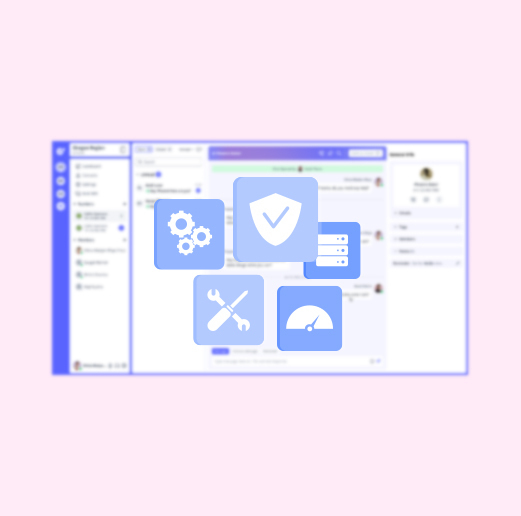 Reasonable Plans
Purchasing UK phone numbers with local area codes is affordable on Calilio. Feel free to check out our competitive VoIP plans whenever you like.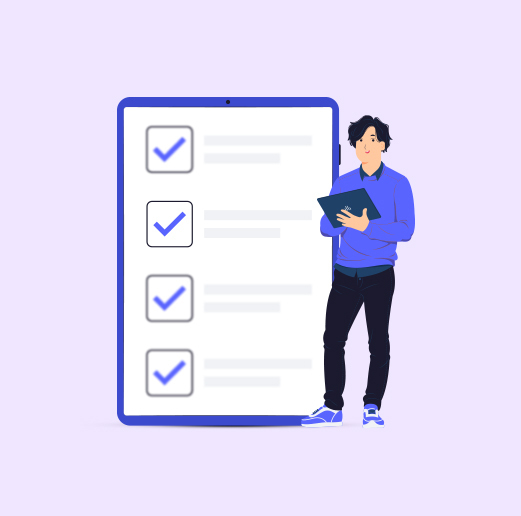 Unique Features
Discover Calilio's standout tools: a Unified Call Box, timely Chat Reminders, efficient Internal Messages, and sentiment analysis. Elevate your communication experience.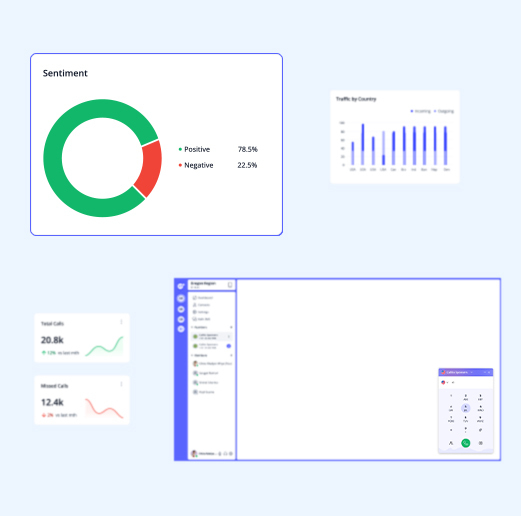 24/7 Support
Enjoy Calilio's 24/7 support to boost customer satisfaction and reinforce your brand's credibility through efficient waitlist management and timely customer callbacks.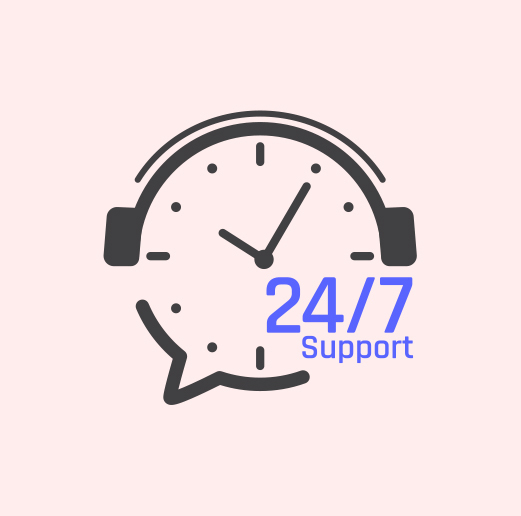 Establishing a Local Presence in Major Cities with a +44 Country Code
Calilio allows your business to establish a local presence in the UK seamlessly. Check out the extensive UK phone number list with the city area code that aligns with your business.
Frequently Asked Questions
How reliable is a Free UK virtual phone number?
What is an example of a UK phone number?
Are all UK phone numbers 11 digits?
What is the 3-digit area code for the UK?
How much time does it take to get a United Kingdom virtual phone number?
Who can buy UK virtual phone numbers?
Can I get a virtual UK number?
Can I get a UK phone number for free?
What is the phone code for UK?
What is a UK area code?
Anchor Your British Presence
Step boldly into the UK business arena with a dedicated British phone number. Unlock unparalleled opportunities in the UK market.
International Number
Get International Numbers