Numbers
Search California Number with CA Area Codes
Enhance the power of local connectivity. Choose a California number with your preferred CA area codes.
Benefits
Benefits of a California Phone Number
Being globally connected yet locally present is vital for today's businesses. A California phone number embodies this philosophy.
Buy California Phone Number Instantly
A California phone number with a local area code opens doors to local clients, and fosters trust among them.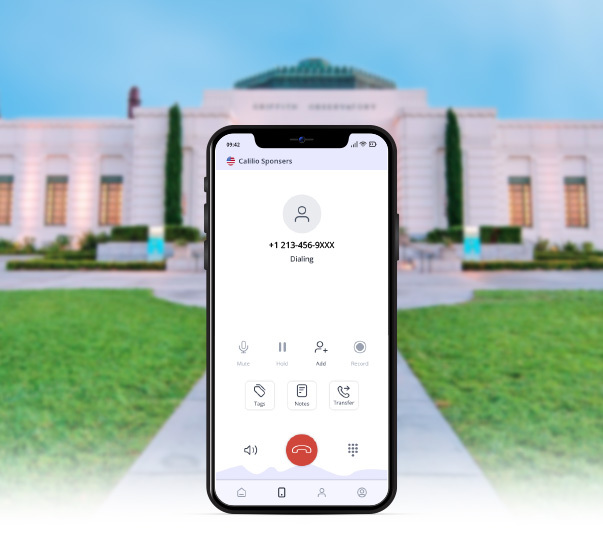 Los Angeles
Los Angeles, known worldwide for its entertainment, has many California area codes: 213, 310, 424, 661, 818, and 323. A Los Angeles phone number can position your business favorably among movie moguls, tech startups, and everything in between.
Los Angeles

San Diego

San Francisco

San Jose

Fresno
How to Get a California Phone Number?
Stepping into California's dynamic business landscape? You can effortlessly get a California phone number on Calilio.

Sign Up
Sign up and register on Calilio. It's simple – provide the required details and verify your email address to activate your account.

Choose a VoIP plan
Once logged in, you will land on our comprehensive pricing page. Select the VoIP plan that aligns best with your aspirations.

Pick a Number
Navigate to the 'Numbers' section and click 'Purchase Number.' Choose numbers with a California phone code that suits your business locale.

Checkout
Review your numbers and hit the 'Buy Now' button. Our intuitive payment process ensures a hassle-free checkout.

Set up your number
Your California number instantly activates. Go to Settings and customize as per your operational needs.
Get Various CA Virtual Numbers
Diversify how your Californian clients can reach you with a range of virtual phone numbers of the state.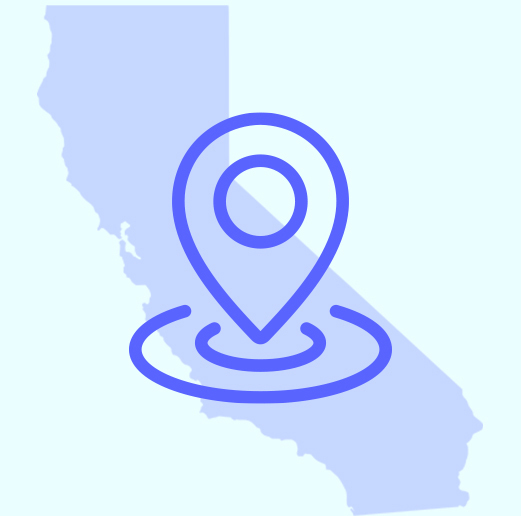 Local Number
Perfect for businesses looking to establish a presence in specific Californian cities. Make your brand resonate with local vibes.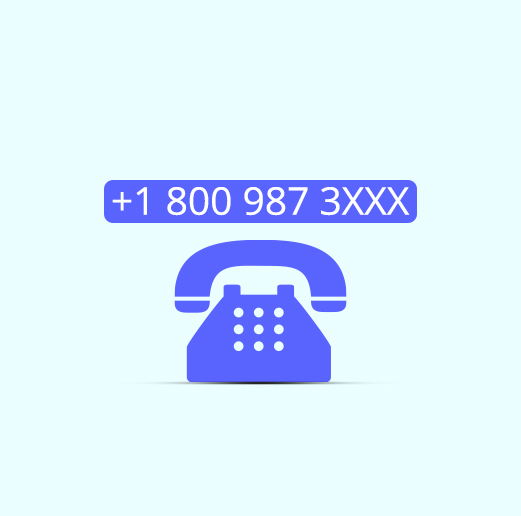 Toll-Free Number
For businesses aiming for a broader reach, toll-free numbers offer clients a cost-effective way to connect with you.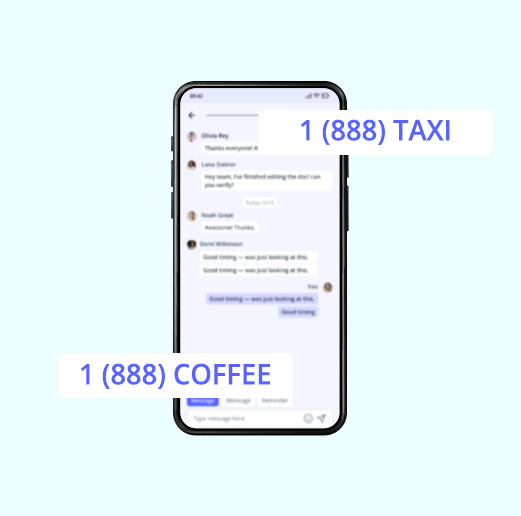 Vanity Number
Make a statement. Customized for brand recall, vanity numbers ensure your business stands out in the Californian market.
VoIP Features of Our California Phone Numbers
A California phone number on Calilio isn't just about making calls. It's a feature-rich experience designed to enhance your business communications.
Call Forwarding
Ensure no call goes unanswered. Redirect calls to different numbers or teams, guaranteeing efficient client interactions.
Call Analytics
Knowledge is power. Analyze call patterns, peak times, and more, refining your communication strategies for better results.
Voicemail
Missed a call? No worries. Our voicemail feature ensures you're always in the loop, even when unavailable.
CRM Integration
Synchronize your virtual phone numbers with CRM tools. CRM integration means more time for what truly matters – growing your business.
How to Make a Call to California?
Making a call to California involves understanding the unique California area codes, aka California phone codes. Follow the steps below to call a California phone number.

Exit Code
The exit code for international calling differs from country to country. For example, '00' for the UK, or '011' for Canada. You can use the '+' sign to replace the exit code on mobile phones.

USA Country Code (1)
The USA country code, '1', follows next. It ensures the phone system sets your call towards the United States.

Area Code
California boasts a range of area codes. Dial the appropriate three-digit area code depending on your target city or region.

7-digit Number
Conclude with the local 7-digit number assigned to an individual or business, and you're connected to California.
California Phone Number Example
Let's say you're calling from Canada to San Diego, whose local number is 555-1234. San Diego area code is 619.
Exit Code:

'011' or '+' (For Canada)

Country Code:

'1' (for the US)

Area Code:

'619' (for San Diego)

So, you'll dial:

011-1-619-555-1234 or +1-619-555-1234

Why Choose Calilio?
CA Phone Numbers With Calilio
Calilio offers a cloud phone system where you don't need expensive business communication devices. Handle business calls with your USA local phone numbers no matter where you are.
Comprehensive Range
Our inventory boasts a vast collection of California phone codes. Whatever specific area or city you aim to reach, we've got the right number for you.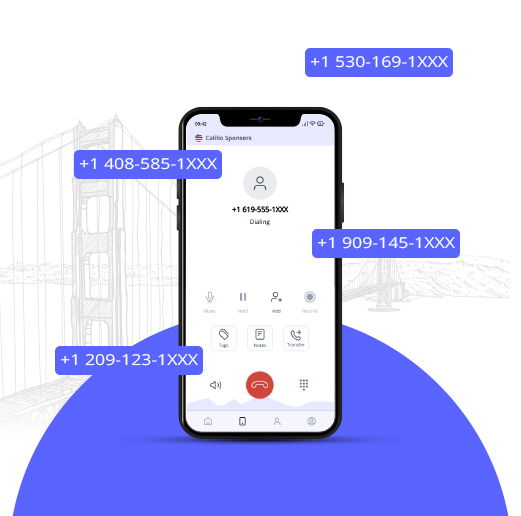 Easy Setup
Setting up virtual numbers on Calilio is simple; no intricate steps are involved. Select your desired CA phone number, and we will swiftly activate it.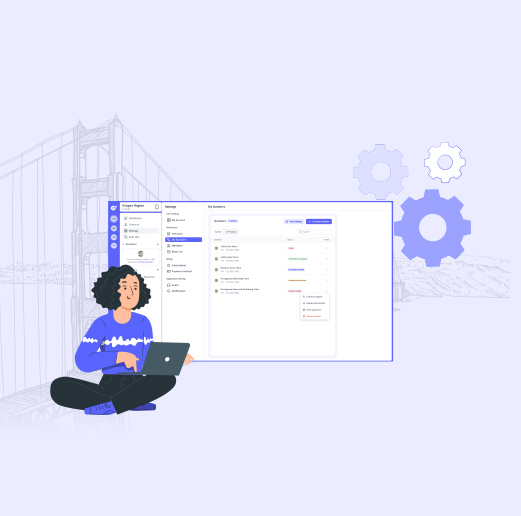 Affordable Plans
Calilio offers a range of affordable VoIP plans featuring CA area codes. Tailored to fit businesses of all sizes, our packages ensure premium quality at competitive rates.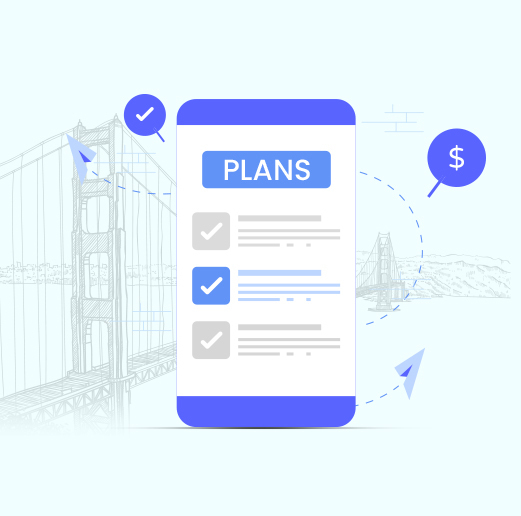 Provide 24/7 Customer
Experience 24/7 support from Calilio to delight your customers and strengthen your brand's trust with effective call routing and analytics.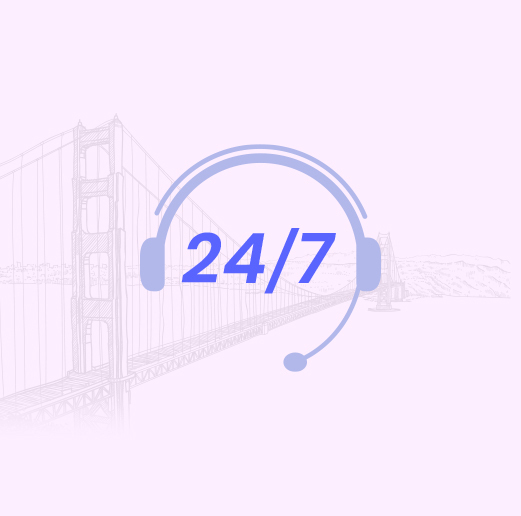 Free Virtual Number
Set up a free virtual California number with our VoIP service and enjoy crystal-clear, uninterrupted calls anytime, anywhere.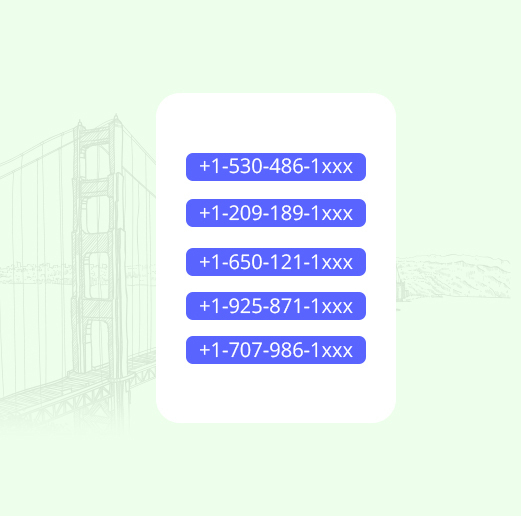 Frequently Asked Questions
What is the area code for California?
How do I get a California phone number?
What area code is 530 in California?
What area code is 415?
What are California phone codes?
Can I port my existing California number to Calilio?
How many California phone numbers can I have?
Tap into California's Pioneering Spirit
Engage with California's tech and entertainment hubs. Your CA phone numbers anchor you to Silicon Valley, Hollywood, and more.
International Number
Get International Numbers