Numbers
Search Iowa Number with IA Area Codes
Unlock doors to a business-friendly environment within local regions in Iowa. Choose an Iwoa number with IA area codes of desired regions.
What is an Iowa Phone Number?
An Iowa phone number is a combination of dialing codes and contact numbers within the state boundaries of Lowa. For connecting locally, the dialing codes only include the local area codes of the desired region within the state. Correspondingly, one must include the specific country exit code and US country code '1' when dialing internationally.
An IA phone number conveys an aura of locality and allows businesses to connect deeper with Iowa's residents. These numbers enhance business accessibility, improve service delivery, and significantly boost regional brand recognition.
Benefits
Benefits of Virtual Iowa Phone Numbers
Business today requires a tool that offers accessibility, flexibility, and a competitive edge to stay ahead. An Iowa phone number is a majestic tool to offer such abilities.
Buy Iowa Phone Number Instantly
A local Iowa phone number provides businesses a direct pathway to thriving Iowan communities.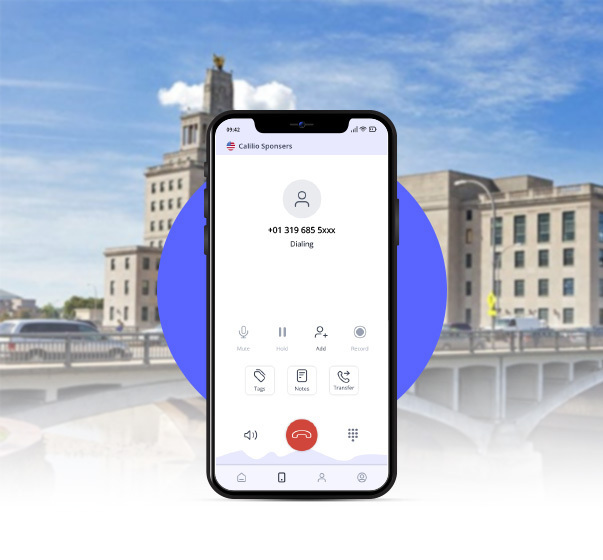 Cedar Rapids
Tapping into the IA area code 319, your business connects with Cedar Rapids, a hub of arts, culture, and commerce. Delve into immense opportunities in the growth-centric local market within Iowa.
Cedar Rapids

Davenport

Mason City

Des Moines

Sioux City - 712
Get Various IA Virtual Numbers
Represent your brand image by selecting from a range of IA virtual numbers, each with unique characteristics and perks.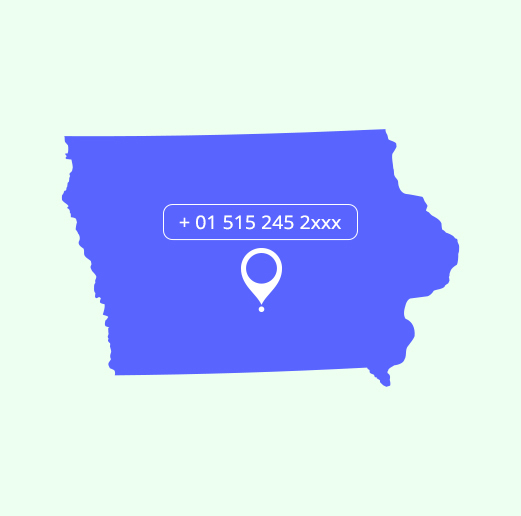 Local Number
Local Iowa phone numbers perfectly align with a business aiming to foster in specific Iowa towns or cities. Give your brand a touch of regional authenticity.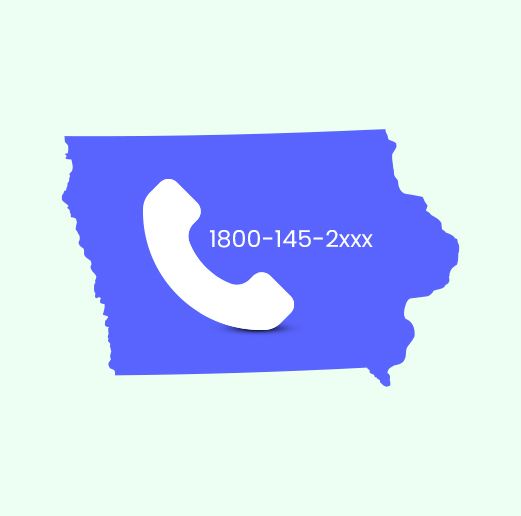 Toll-Free Number
Ideal for brands to boost accessibility and customer-centric image. Adopt the Iowa toll-free number and offer your clients a cost-free method to reach you.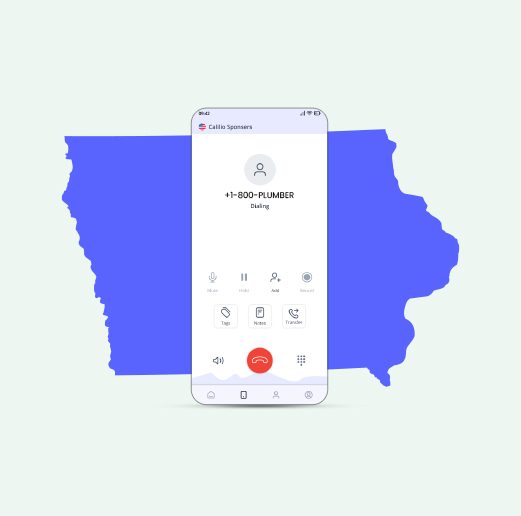 Vanity Number
Iowa vanity numbers are your marketing tool to enhance brand recognition and recall. When clients dial your number, it creates an enduring brand impression and memory.
How to Get an Iowa Phone Number?
Acquiring an Iowa phone number has never been easier. Calilio presents an effortless and intuitive process to get a USA phone number with IA area code.

Sign Up
Sign up on Calilio. Simply register by providing the necessary details and verifying your email address.

Choose a VoIP plan
Login with registered credentials. Access our comprehensive pricing page and select your preferred VoIP plan.

Pick a Number
Head towards the 'Numbers' section on your screen. Click 'Purchase Number' and pick the number with the Iowa area code matching your business target.

Checkout
Review your selection. Tap on the 'Buy Now' button for confirmation. A prompt will guide you through the payment process.

Set up your numbers
Your Iowa number is activated in no time. Access the settings and configure them as per your preferences.
VoIP Features of Our Iowa Phone Number
Calilio's Iowa phone number is more than just a communication touchpoint. It comes loaded with exceptional features that drive business growth with unparalleled efficiency.
Call Queuing
Don't leave your clients waiting in the dark. The call queuing feature ensures your callers are attended to in the order they call. As such, it elevates the customer experience.
Auto Attendant
Experience the power of automation. Greet and direct your caller to the appropriate agent or department automatically and reduce wait times.
Ring Strategy
Ensure to attend every call promptly by ringing on multiple devices. Depending on your preference, calls can be set to ring simultaneously or sequentially.
Third-party Integrations
Maximize your phone system's utility. Calilio's IA numbers are eligible to integrate with other operational tools. It results in synchronized operations and enhanced workflow efficiency
Call Analytics
Measure the operational performance. Get call data, track performance metrics, and gather invaluable insights to refine your strategies and bolster customer engagement.
How to Make a Call to Iowa?
Reaching out to Iowa requires understanding the dialing sequence of phone codes and prefixes. Follow the steps below to call the Iowa phone number.

Exit Code (+ or 00)
Dial the exit code, which varies by country. For instance, Canada uses '011' while the UK utilizes '00'. Dialing from a mobile phone allows you to replace the exit code with the '+' sign.

USA Country Code (1)
Next, dial the US country code, i.e. '1.' This specific code is your ticket for entrance to the United States.

Area Code
Key in the specific Iowa area code for the region you're targeting. It further narrows down your call destination within the US.

7-digit Number
Finally, dial the unique 7-digit phone number of the individual or business you're trying to reach.
Iowa Phone Number Example
Let's assume you're calling from Canada to Mason City, whose local number is 123-4567. The area code for Mason City is 641.
Exit Code:

'011' or '+' (for Canada)

Country Code:

'1' (for the US)

Area Code:

'641' (for Mason City)

So, you'll dial:

011-1-641-123-4567 or +1-641-23-4567.

Why Choose Calilio?
IA Phone Numbers With Calilio
Calilio offers virtual IA phone numbers with unparalleled service quality. Align your business with a partner committed to excellence, reliability, and affordability.
Top-tier Security
Your security is our top priority. Employing state-of-the-art security protocols, Calilio protects your every conversation and data.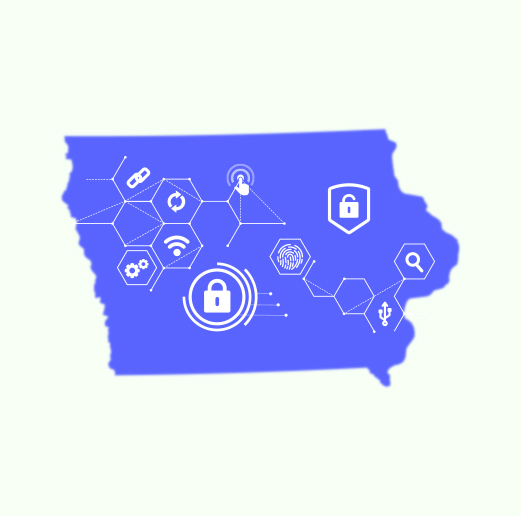 Round-the-Clock Customer Support
No matter the hour, our dedicated team is ready to assist you 24/7. Call us day or night; we will promptly address all your issues and concerns.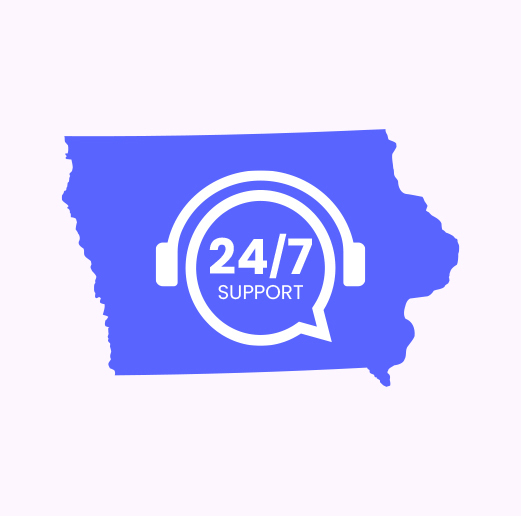 Affordable Pricing Plan
Calilio offers competitively priced plans designed to cater to businesses of all sizes. On every plan, we guarantee value without compromising on quality.
Easy Set-Up
Seamlessly communicate without the hassle. Simply register and pick a number; your new Inowa phone address activates in no time.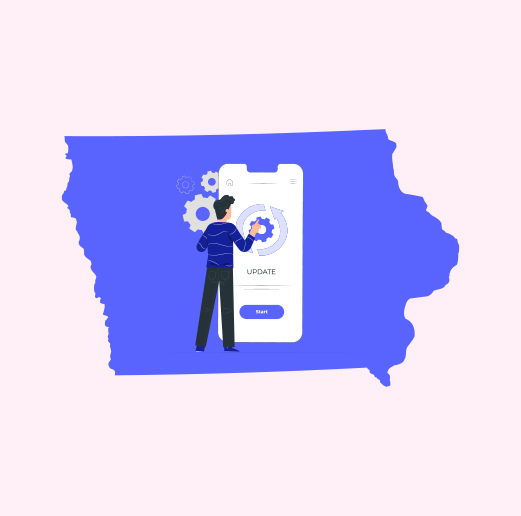 High-Definition Call Quality
With Calilio, every conversation is crystal clear. Whether communicating within the state or from the ocean away, we offer a clear line for communication.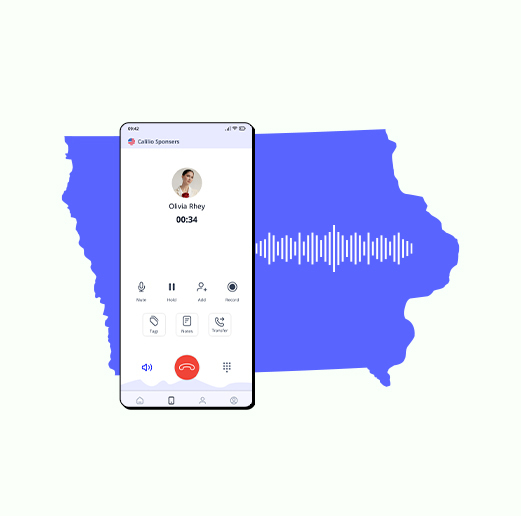 Frequently Asked Questions
What do Iowa phone numbers start with?
Which number is Iowa?
How many area codes are there in Iowa?
What area code is 208 in Iowa?
What is the area code for Des Moines, Iowa?
Connect with the Heart of the Midwest
Gain a competitive edge in Iowa's diverse economy with a local IA phone number. Integrate your business with the local community and markets.
International Number
Get International Numbers